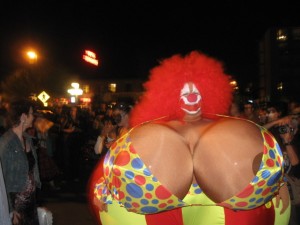 In 2005 we took an insanely long road trip from Tucson to New Orleans, with the goal of reaching the Florida Panhandle. What made it insane, was the fact that we were trying to do this in two weeks with two teenagers — our daughter and her friend — in the back seat. They actually held up well during the long daily drives needed to make our goal.
On the way, we spent the night in Holly Beach, Louisiana, a town soon to be wiped off the map by Hurricane Rita. While the girls hung out in the cabin we rented, no doubt needing space from us, Julie and I walked through the town and found the bar. The handful of locals there embraced us, asked about us ("You drove all the way from Arizona?") and told us stories you'll only hear in rural Louisiana. They even bought us a round.
We never made it to Florida, but Julie and I always reminisce about the hour or two we spent that night getting to know some of the residents.  The devastating hurricanes that year shocked everyone across the U.S., but we took the fate of Holly Beach personally because we had connected with the locals.
We love to meet local people when we travel, but that can be hard to do when you're short on time or packing your itinerary with tourist site visits. If you're the same way, try to incorporate one of these five ideas into your next trip to help connect with the locals.
Find a festival.
Nothing like partying with the locals to help you get to know a place. At a festival you get a chance to see what the locals do for fun, like racing wooly worms in North Carolina.
Festivals also bring out good local food, and take you to parts of town you never would have thought to visit. And you just might see some really strange stuff.
Lend a hand.
Want to get to know the locals, feel good about yourself and help the planet be a bit better place? There are so many opportunities to combine volunteering with travel, from volunteer immersion programs like Helping Orphans Worldwide in Vietnam, to spending a couple of days working at a farm.
Ride a train.
Trains a great way to sightsee. They are also the preferred way to travel for many locals.
Once, on the Reunification Express, Julie made friends with a Vietnamese man who was buying garlic from a vendor at a train stop. The man invited us to share a meal with his son, father and grandfather in their sleeper. We brought some food we had bought in Nha Trang, and they opened little sausages wrapped in banana leaves. Although we could barely understand each other, it was one of the most delightful experiences on our trip…and I believe it was for them as well.
Check out The Man in Seat 61 for information on train journeys worldwide.
Be a house sitter.
Home sitting jobs can put you in the middle of the local scene and give you free accommodations to boot. We haven't tried this travel idea yet, but probably will someday.
There are many websites that offer to connect homeowners with house and pet sitters. Many require a membership fee.
Eat on the streets.
Celebrity travel chefs like Anthony Bourdain and Andrew Zimmern, plus the rise of food truck roundups, have popularized street food. Yet seeking out street food is not just a trendy activity for the hipster crowd.
Street food is often derived from the local culture and where you find street food, you'll find locals. If you're planning a trip, you can find out ahead of time what dishes are part of the local culinary heritage and make finding it on the street part of a quest. Or just wander and experiment.