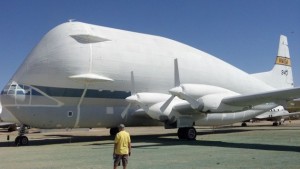 If you're into airplanes and aviation history, and you're looking for things to do in Tucson, then I have a place for you. A couple of weeks ago my dad and I went to the Pima Air and Space Museum. Even though I've been a local for almost 20 years, this was my first visit. If there's one thing I learned, humans have been pretty busy since Orville and Wilbur Wright just about killed themselves almost 110 years ago.
The museum is huge and there a lot of airplanes. A lot. Now I'm not an aviation buff so maybe I'm easily fooled, but the range of airplane styles and designs displayed probably covers the range of human innovation in aerospace flight over the last century.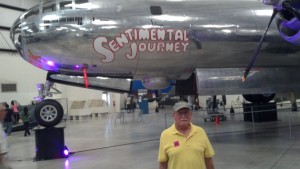 The museum covers everything from goofy giant seaplanes to early spy plane technology to cute single-person planes. There are five hangers stuffed with aircraft and exhibits, plus one building dedicated to spaceflight. Planes are on the floor. Planes are hanging above you. You can walk around and under them and if you're not careful, bean your skull on a wing.
On the grounds outside are dozens more planes — some really, really big — and helicopters. They also have a restaurant and gift shop.
We were there less than three hours and didn't see everything, which might be why they sell memberships.
The museum also offers tours of the nearby "boneyard," where unused military aircraft are stored by Davis-Monthan Air Force Base.
The standard price for adult admission is $15.50, but I was able to get in for $12.75 because I'm a resident. Seniors are also $12.75, children are $9 and kids under 6 are free.
Pima Air and Space Museum
Likes
Lots of planes.
I learned something.
Dislikes
Signs on planes parked outside were not very explanatory.
They were setting up tables for a catered event, the food smelled good and I wasn't invited.
How to get there:
From I-10 take Exit 267 to Valencia Road. Turn east on Valencia Road for almost 2 miles. You'll see planes. Lots of planes. The museum entrance is on the south side of Valencia Road.
[geo_mashup_map]
6000 E. Valencia Rd.
Tucson, Arizona
85756
520-574-0462
Open 9:00 a.m.- 5:00 p.m. daily
Last admittance at 4:00 p.m.