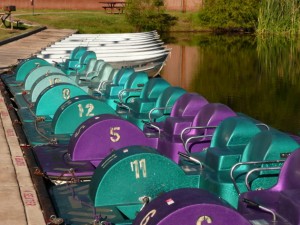 Patagonia Lake State Park was one of the first places we camped when we moved to Tucson 19 years ago. We loved our new desert rat status, but were soon sniffing around for water to play in. Only about an hour and a half drive from the city, 265-acre Patagonia Lake fit the bill.
But it's a small lake, and the problem is that a lake in the desert will attract other people. Lots of other people. The campground didn't take reservations, and more than once we drove down prepared to camp only to be turned away. We started heading down on Thursday evenings to set up camp, then return to Tucson until the weekend started. Even then, we sometimes didn't get a site.
Well, that changed last year when the state park started taking online reservations. Now, for a $5 reservation fee, you can plan out your stay a little better. That doesn't mean it isn't going to get crowded — or full — especially during holidays and the summer months. When temperatures start driving southeastern Arizona families to madness, a trip to the only body of water around becomes an obsession.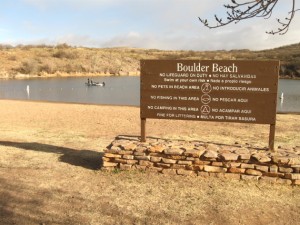 "When it gets hot, we'll have lines out the gate," Ellen Bilbrey, Chief Public Information Officer for Arizona State Parks told me.
If you want to avoid the crowds, January to April is the ideal time.
"That's when the rest of the park becomes a total retreat for birders and hikers," said Bilbrey. "It's also a great place to take your RV."
We took our motorhome down to the lake last weekend. Our friend had made reservations, so we no longer fretted about our spot while we dashed down from Tucson. In fact, the campground seemed only about 60 percent full. Not bad for a weekend.
The campground seemed cleaner than when we last stayed in 2008. Each site was refurbished in the last year with water and 20/30/50 amp hookups. There's a dump station by their little market.
The restrooms and showers are also fairly new and kept clean.
Of course you're there for the lake. It was too cold to swim, and too windy to kayak, but we did take a nice long walk up Sonoita Creek. The birding here is evidently world class. We saw plenty of birds and plenty of people watching birds. Birders said hello to us in hushed voices, probably just to shame us for making such a racket.
We didn't fish either, but that's okay because I didn't see anybody catch anything. Apparently you can catch largemouth bass, flathead catfish, channel catfish, crappie, bluegill, red ear and green ear sunfish. They also stock the lake with rainbow trout in the winter. You can pick up a fishing license at the store.
We did sit at a table and watch people not catch anything while we sipped champagne. That was fun.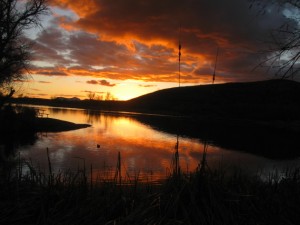 Patagonia Lake has a small marina, and you can rent paddle boats, kayaks, canoes, rowboats, pontoon boats and trolling motors. There are some really cool boat-in only campsites on the lake.
Patagonia Lake State Park
Likes:
Water in the desert.
Great lake for paddling about and nature watching.
Friendly staff. Clean facilities.
Online reservations.
Dislikes:
Can get really crowded during warmer months.
Cattle grazing allowed in Sonoita Creek.
How to get there:
From Tucson, follow I-10 east to Highway 83 south. At Sonoita, turn west on Highway 82. Turnoff is about 7 miles past the town of Patagonia.
Or, take I-19 south to Nogales and exit at Grand Avenue. Follow to Highway 82 junction (stay in right lane, even though 82 goes east. Take 82 east about 10 miles to turnoff.
[geo_mashup_map] Patagonia Lake SP
400 Patagonia Lake Rd
Patagonia, AZ 85624
520-287-6965