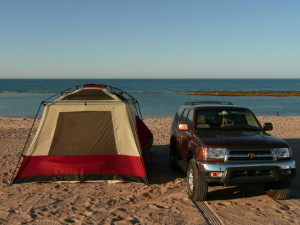 Almost 20 years ago we headed from our new home in Tucson, Arizona to explore a Mexican beach town called Puerto Peñasco, more commonly known as Rocky Point.
We were going to camp on the beach. We had never seen photos of the place and had very little information. A friend had told us we could pretty much camp anywhere, but we might want to avoid Sandy Beach since we had our young daughter with us and it could get a bit rowdy.
It was Memorial Day weekend and the place was packed. One local hotel owner told us we could only camp on Sandy Beach or in one of the RV parks because the Federales were kicking campers off of undeveloped beaches. We lucked out by nabbing what was probably the last spot in an RV park in town, over on Playa Mirador.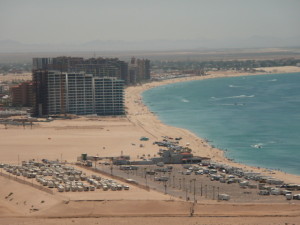 Over in Old Port, we sat in a restaurant and looked across the water at a long stretch of cream-colored sand that was covered in tents and vehicles: Sandy Beach. A dusty haze hovered over the tent city.
We drove over to check out Sandy Beach and entered the realm of the Road Warrior. Giant four-wheel drive trucks, of the kind that make Arizonans proud, barreled past our tiny Nissan Sentra spewing sand and creating the illusion of a post-apocalyptic wasteland. Fearing that we would get stuck, and I'd have to barter with my wife and child to get a tow, I turned around and headed back to Mirador Beach.
A lot has changed in 20 years. Most significantly, luxury high-rise condos now line Sandy Beach, and the anarchy is long gone. The beach is patrolled and you can no longer drive on it.
However you still could camp at the western end of the beach by paying $5 to the folks at The Reef RV Park. That gave you the privilege to drive out on the beach on the east side of the park, set up your tent and use their showers. Now, that too is gone.
Puerto Peñasco is creating a home port for cruise ships right next to The Reef. When we were in Rocky Point last week, fencing blocked off all access to the beach camping area. The RV park itself was still open, but who knows for how much longer since it looks like they plan to dredge out that area for the port.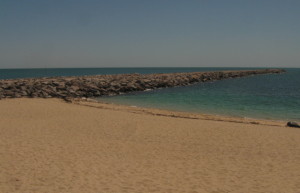 Now we're not into cruise ship travel, so this news does not excite us at all. But the port could do well for the local economy. Whatever happens, it's certainly the death blow to an era of easy Mexican beach camping for Americans. There are still plenty of other great beaches in Mexico to camp on, especially on the Baja Peninsula, but they are definitely not the easiest to access.
¡Ha sido una aventura Playa de Arena!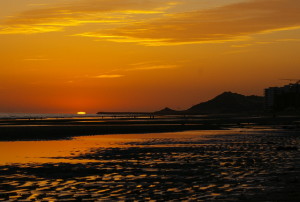 Do you have any memories of camping on Sandy Beach? Share the comments…we'd love to hear your stories!
How to get there:
From the U.S. border crossing at Lukeville/Sonoyta, follow the signs to Puerto Peñasco and Carretera Federal 8 (Mexico Highway  8).
As you enter Puerto Peñasco, look for signs promoting Sandy Beach resorts on the right. Calle 13, at the pedestrian bridge, is the last road with access to Sandy Beach before you enter downtown.
[geo_mashup_map]