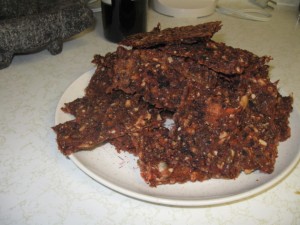 I go through a lot of energy bars when hiking, cycling or just road-tripping. They can be expensive and sometimes nasty-tasting, so I've always wanted to try making my own.
What's more, we like to do our own juicing but it's kind of depressing to see all that juice pulp go to waste. So here's my stab at an energy bar recipe using pulp from the juicer:
Juice pulp energy bar recipe
Note: Measurements below are sort of, kind of, more-or-less approximate. That's just how I roll …
First, I collected the juice pulp and kept it in the freezer until I felt I had enough to make some bars. For this recipe I used pulp from:
 2 pineapples
1 lb grapes
1 lb strawberries
1 tangelo
2 limes
2 carrots
2 "handfuls" of blueberries
I then mixed the pulp with the following:
1/4 cup of honey
1/4 cup of chia seeds
1 cup of chopped cashews
1 cup of chopped, pitted dates
I spread the mixture on parchment paper about 1/4″ thick, and scored into bars with a spatula. I put them on trays in our Excalibur dehydrator.
I set the temperature at 145 F for 2-1/2 hours, then lowered the temperature to about 112 F for 24 hours. According to the Excalibur drying guide, starting with a higher temperature was the best way to help prevent spoilage while still preserving the living enzymes that give the benefit of raw foods. An alternative is to set the temperature between 105 F and 120 F, but it will take longer to dehydrate.
The bars were a little flexible and very tasty. They need to be refrigerated because of the cashews; the oils in nuts can still go rancid.
I'm going to keep playing around with this recipe, but I'm definitely happy with the results.