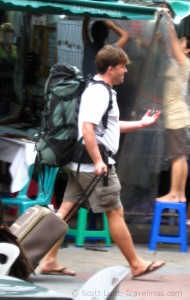 Traveling has enough hassles without being bogged down with luggage. Besides, nothing screams "dorky tourist" like unsuccessfully juggling a bunch of Samsonite.
Our goal is to avoid checking luggage, at least when flying to our destination. And that means being able to pack everything into a carry-on. The freedom is great: You don't have to fret about the airline losing your luggage and leaving you stranded in a strange city without clean underwear and your favorite traveling pants. And no more waiting and jostling with other irritated passengers at the baggage carousel. You pass quickly through customs and can easily maneuver through crowded airports, streets and train stations.
People are often overwhelmed with how to pack light. Here's an overview of how we do it.
Our luggage for packing light.
I use a JanSport Euro Sak pack which I bought in 2008. It has shoulder straps and a waist belt that can be stashed away when I'm not using them. It's carry-on size and attractive enough as luggage that I don't look like a dirtbag when checking into hotels (although, at heart, I am a dirtbag). My only complaint is that there is no rigidity and it tends to sag.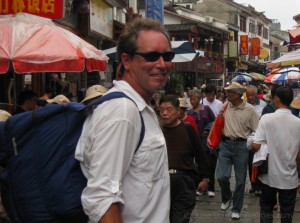 Julie uses a High Sierra carry-on wheeled bag that can convert to a backpack. The wheels make it a little heavier and more awkward to use as a backpack, but she wheels it most of the time. It's also a little stiffer, like regular luggage, so it doesn't have the sagging problems I have. What's nice is that it includes a zip-off day pack that we use when we're out exploring.
Packing.
I always start by making a packing list, thinking through what items are critical and what items I can get by without.
Clothing is bulky. The key to getting everything in a carry-on for trips of a week or longer, is to remember that you can get laundry done just about anywhere. The hotel may have laundry service, or you can always find locals offering laundry service out of their homes. Worst case scenario, you can always wash some items in your room. So that means you just don't need to bring that many clothes.
I think in terms of layering to stay warm, rather than haul some bulky jacket. If I am going somewhere that requires a parka, I simply wear it on the plane and stuff it next to my stored carry-on.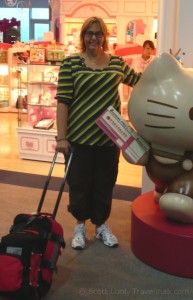 I also like to use long pants that can double as shorts just by zipping off the legs. Julie picks clothing that can be mixed and matched to create different outfits.
And remember, depending on where you go you can usually find items that you didn't pack but end up needing. Just remember to pack critical items like prescription medicines and an extra pair of prescription glasses.
What about souvenirs? We don't do much souvenir shopping, but do like to bring back small items for friends and family. We usually save the last day before our flight home to shop so we're not lugging around too much while we travel. If we can't fit souvenirs into our carry-on luggage, we can often find an inexpensive duffel bag which we'll check with the airline on the return flight.
Finally, for a long trip, I make sure I'm packed a few days early so I have time to make adjustments if it doesn't all fit.