Happy New Year from the Travelinas!
Well, we're still sitting in the South Forty Ranch RV park in northwest Tucson. Actually, we are in Marana. At least that's what it says on the sides of the cop cars, but I can't really tell where one city ends and the other begins.
We pulled out of the deal at Freedom RV. We just had too many concerns with the rig itself. So now we are still looking for a Class A that suits us, but we're getting antsy to travel. Like the stones that gather no moss, we want to get a rollin'.
Not that we haven't made the best of the time in this part of town. Having lived our entire 20-plus years in Tucson on the eastside, being in Marana is like visiting a new city. The traffic is much busier than the eastside, but there are more restaurants, bars and places to shop.
The RV park is nice and clean and, at $565 per month, not a bad price compared to similar parks in the city. And the staff and other residents have been really friendly. We feel like we are in Mayberry. (Maranaberry?)
It's been fun. Our friends Reinhard and JoAnna, from Washington, showed up and we pretty much laughed our way through December. Our daughter spent Christmas with us, packed in our RV. We've had friends drop by to swim in a pool that we don't have to maintain.
I've hiked all over the mountains surrounding Tucson, but haven't spent a lot of time in the Tucson Mountains.
Now they are just a 10 minute drive away, and I've had the pleasure of exploring new areas there with my desert rat partner Mike Ehlerman.
I've also cycled all over this city, but again haven't spent much time this far northwest. The RV park is really close to some great multi-use paths, including The Loop, which is good because the traffic out here can make road cycling a bit hairy.
Our next move? If we don't find a new rig before our month is up at the South Forty, we may head up to Phoenix where there are usually more options for both used RVs and tow vehicles. Phoenix certainly wouldn't be our first choice for our next destination, but hey, at least we'll be traveling.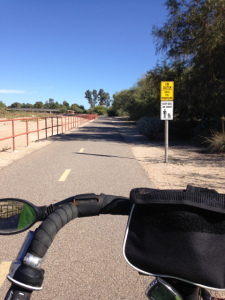 South Forty Ranch RV Park
Likes
Clean, well-maintained. Level, gravel spots. Friendly staff.
Dislikes
None, really. Other than the fact that we are not on the road yet.
How to get there:
From I-10 take the Orange Grove Road exit (Exit 250). Park is just east of Thornydale Road.
[geo_mashup_map]