On our first night in Portugal, we wandered into Martim Moniz Square. We should have been in bed trying to adjust to our new time zone, but we had already taken two unavoidable naps and were ready to explore. Specifically, we were ready for a drink.
The square was alive with promise. Named after a legendary knight who sacrificed himself during a siege on Lisbon's Castelo de São Jorge, it featured kiosks selling drinks and food instead of statues promoting European heroics. A DJ played music, and locals chatted over beers or read by the fountains. We love hanging out with the locals.
We found a bartender who made a great caipirinha, but it was the Portuguese couple near us who grabbed our attention. That's because they were munching on a chunk of bread stuffed with some sort of meat and it looked absolutely ambrosial.
Our seafood dinner had worn off by now and we quickly tracked down the dealer of this enticing sandwich. It was suckling pig, and he was busy dishing it up to several customers from his kiosk. Pushing aside thoughts of cute piglets, we ordered one to share.
When I asked if he had anything else to drink besides water and beer, he offered me a shot of ginjinha. This liqueur is a Portuguese original, made from soaking sour cherries (ginja berries) in aguardente with a little sugar. I took the shot and immediately ordered another. The suckling pig sandwich was, though a bit salty, delightful. The ginjinha, sweet but not too potent, had me hooked.
On the walk back to the hotel we passed a little tavern where several men were standing at a bar drinking. I grabbed Julie's arm and pulled her back. "Why they have ginj … er ginginginia or whatever that drink was!" I said.
The bartender smiled when I tried to order the drink. "Ginjinha," he said, and asked if I wanted the cherry in the shot as well. Of course!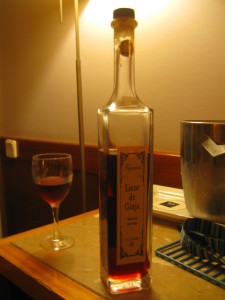 I took the shot, chewed on the alcohol-soaked cherry and spit the pit into the glass. Yum yum! I was really taking a shine to this stuff. I ordered this several times during our trip through Portugal, and even bought a bottle to take to the beach in the Algarve.
It wasn't until we returned to the U.S. that I discovered the following about ginjinha:
Like the bar we stumbled upon that night, several small taverns in Lisbon specialize in serving the drink. The most famous is A Ginjinha near Rossio Square.
It apparently takes some skill for the bartender to get one cherry out of the bottle and into your shot glass.
The ginja berries are actually Morello cherries which are grown in the Obidos region of Portugal.
Unfortunately, I haven't been able to find it for sale in the U.S. and I may try making it myself. Or maybe we'll just have to go back to Portugal. Damn.
Martim Moniz Square
Likes
Local hangout
Lively atmosphere
Great place to have a drink
Dislikes
How to get there:
Martim Moniz Square lies below the Alfama district in Lisbon, off of Largo Martim Moniz.
[geo_mashup_map]
Martim Moniz
Largo Martim Moniz, Lisbon, Portugal