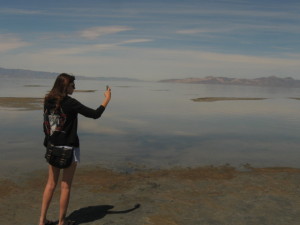 "Why?"
That's what most Utah residents will ask when you tell them you're going to visit the Great Salt Lake.
For many people living along the Wasatch Front, the Great Salt Lake is nothing but the Great Generator of rotten-egg smells before a big storm, clouds of brine flies on muddy beaches and a general feeling of industrial wasteland.
All true. But when we lived there, I used to love to go out and explore the lake shore. It's also vast wilderness, with stark and sometimes alien scenery. Sunsets over the water and the islands can leave you speechless.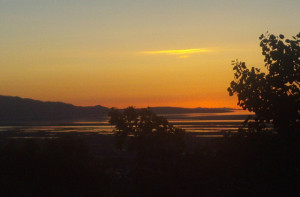 So when we were visiting family in Utah a few weeks ago, I thought it was pretty cool that our daughter said she wanted to see the lake. Even though Ginger had been there before, she had been a small child so this would be a new experience. Nothing wrong with new experiences.
With only a couple of hours to spare in our packed itinerary, we headed to the Great Salt Lake State Marina on the southeast shore of the lake.
We arrived at the Saltair III pavilion first, the blandest iteration of a once-famous 19th century destination. Saltair III was built in 1981, suffered flooding from a rising lake and never really took off. It's now a venue for music acts.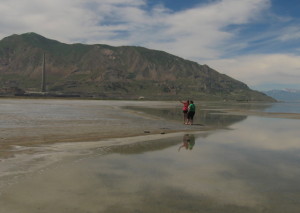 A few tourists milled about in the small gift shop, not buying anything. A loud thumping noise, like tumbling boulders, came from the area of the Kennecott Smokestack towering in the background.
We walked a long stretch of mudflat to the water's edge. There was a marshy stench, dead birds and muck. Floating in the briny water, the signature novelty of the lake, was out of the question. Okay, so the lake was living up to its local reputation.
But at the same time, the visual goodies lived up to my memories. The water was glass, and Stansbury and Antelope islands floated under filaments of clouds reflected in the lake. This is wide-open country and the gateway to the classic, lonely landscapes of the Great Basin. Stink or no stink, I always find myself getting very quiet out there.
So don't let the naysayers discourage you. A visit to the Great Salt Lake is definitely worthwhile, and there are actually much more scenic places to go then the southeast shore. For example:
A nice sandy beach, a marina, a campground, hiking, horseback riding, mountain biking and buffalo. (Yes, buffalo). Antelope Island is a great place to explore.
The second largest island (after Antelope), it's reached by a causeway. Undeveloped with hiking and mountain biking opportunities. In the late eighties I rowed a small raft around the north end and found cool, little coves with white sand beaches.
An artificially created wetlands that holds back some of the Jordan River's freshwater flowing into the lake. This is for those who like big binoculars and lots of birds.
Northeast shore
Seldom visited, undeveloped with dirt roads that take you to remote shorelines. A visit to the strange Spiral Jetty art installation and the Golden Spike National Historic Site, can be part of your exploratory fun.
Great Salt Lake Southeast Shore
Likes
Great Basin scenery
Outdoor activities
Bizarre environment
Not crowded
Dislikes
Parts can be stinky and buggy
Ugly evaporation ponds and Kennecott industrial blight
How to get there:
From I-80, take Exit 104 to the marina, Saltair pavilion and the southeast shore beaches.
[geo_mashup_map]
Great Salt Lake State Marina
P.O. Box 16658
Salt Lake City, UT 84116
801-250-1898